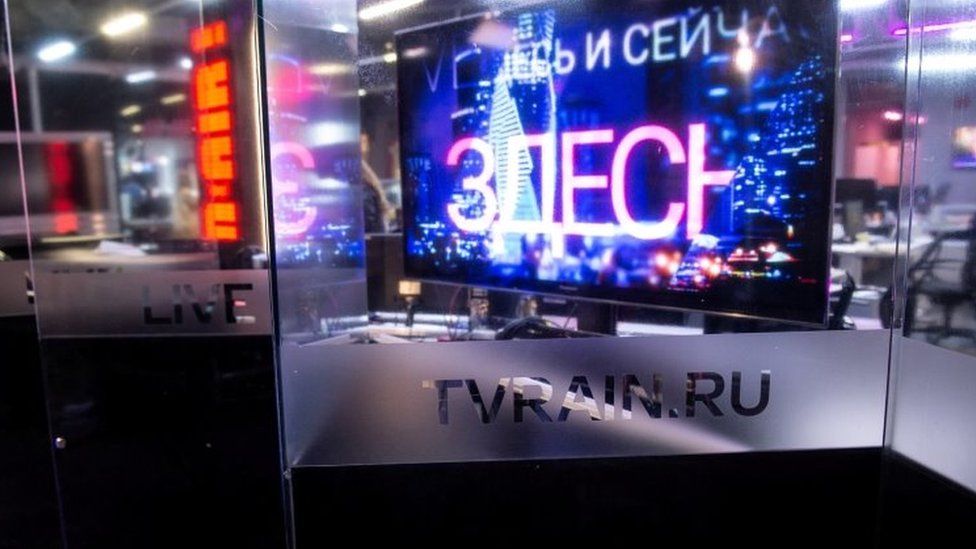 Russia's last independent television channel, TV Rain, has been shut down in Latvia after less than five months on air.
The channel, which is known as Dozhd in Russian, has been accused of showing content that supports Moscow's invasion of Ukraine.
TV Rain has called the allegations "unfair and absurd" in a post on social media.
It has been ordered to stop broadcasting on 8 December.
TV Rain says it will obey the order but will remain on YouTube.
The National Electronic Media Council (NEPLP), Latvia's media regulator, has said the decision to revoke was taken "in connection with threats to national security and public order."
The channel was blocked in Russia in early March, just days after Moscow had invaded Ukraine.
Earlier this month, the NEPLP fined the channel €10,000 (£8,613; $10,488) for displaying a map in which occupied Crimea was shown as part of Russia's territory.
It was also censured for calling the Russian army "our army" in a piece about how to provide recruits with supplies. One of the broadcaster's hosts, Alexei Korostelyov, was fired as a result.
The State Security Service (VDD) has been investigating the incident and said it has repeatedly warned about the "various risks emanating from Russia's so-called independent media relocating their activity to Latvia".
The VDD said these risks include the possible connections of media representatives to Russian intelligence and security services, as well as the danger posed if Moscow seeks to target Latvia as part of measures to influence public opinion online and elsewhere.
Commenting on its decision to revoke TV Rain's broadcasting licence, NEPLP added that it "was convinced that the management of TV Rain did not understand the nature and gravity of each individual infringement, nor of any set of infringements".