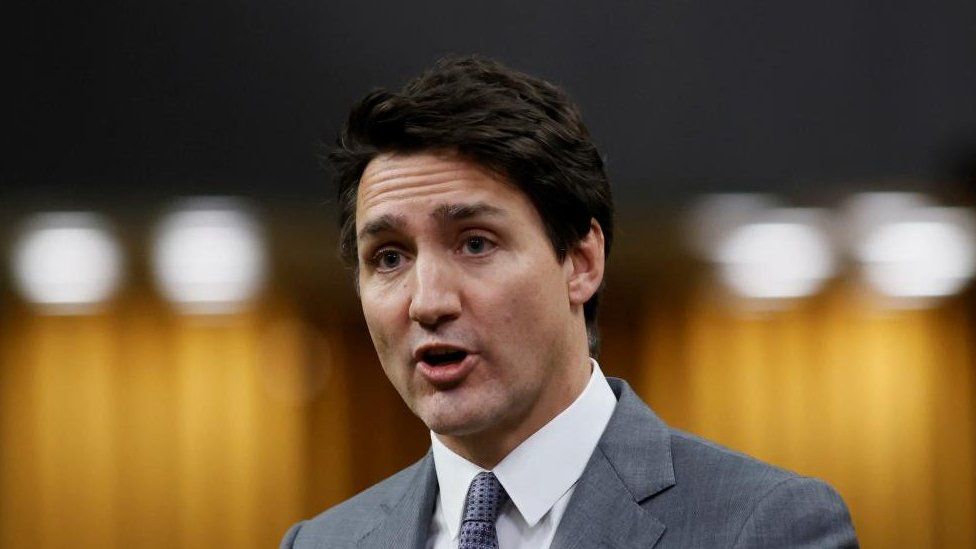 A new firearms law in Canada is facing pushback from hunters who are worried their weapons might get caught up in the gun control legislation.
The concerns were bolstered by NHL star Carey Price, who wrote on Instagram that the law is "unjust".
His post follows controversy over a late amendment to the bill that expands the list of prohibited firearms.
On Monday, Prime Minister Justin Trudeau said his government is still weighing which weapons will be banned.
"We're listening to feedback right now to make sure we are not capturing weapons that are primarily hunting weapons," Mr Trudeau said.
But, he added: "We need to make sure that guns that are designed to kill the largest number of people as quickly as possible have no place in Canada."
The law - known as Bill C-21 - will put a ban in place on the purchasing and importing of handguns and "assault-style" firearms in Canada, increase penalties for firearms smuggling and trafficking, and establish a so-called "red flag" law that would allow guns to be temporarily seized from people who pose a risk to themselves and others, among other measures.
It was introduced in May, nearly a year after the country saw its deadliest mass shooting in history when a gunman posing as a police officer killed 22 people in the province of Nova Scotia.
Canada has stricter gun laws than in the US. Gun ownership is federally regulated and guns are divided into three classes - restricted, non-restricted and prohibited.
But a rise in gun crimes in parts of the country in recent years, and events like the Nova Scotia rampage, has led to a renewed push to strengthen current laws.
Handguns are the main weapon used in the majority of firearm-related violent crimes between 2009 and 2020, according to federal data.
Bill C-21 has been criticised by the opposition Conservative party, whose members have called parts of it "ineffective" and "misguided", and who have argued it does not do enough to address issues driving the violence, such as gun smuggling.
It has faced renewed criticism after a late amendment was put forward by a Liberal member of parliament last month.
It expands the definition of a prohibited firearm to include "a rifle or shotgun, that is capable of discharging centre-fire ammunition in a semi-automatic manner and that is designed to accept a detachable cartridge magazine with a capacity greater than five cartridges of the type for which the firearm was originally designed".
Hunting groups and other critics have said it would ban almost all types of semi-automatic firearms in Canada.
The provinces of Alberta, Saskatchewan and Manitoba have pushed back against the amendment, saying it would "criminalise hunters, farmers and target shooters".
One of the most prominent critics is Montreal Canadiens goaltender Carey Price, who is considered one of the top players in the National Hockey League, though he has been sidelined by injuries in recent months.
Mr Price posted an image of himself on Instagram over the weekend in hunting gear and holding a firearm, with a caption that said: "I love my family, I love my country and I care for my neighbour. I am not a criminal or a threat to society."
Supporters of the gun law, however, have praised the amendments as a necessary move to prevent new assault weapons from entering the market.
This includes families of victims and survivors of the 1989 Montreal Ecole Polytechnique massacre, where a gunman murdered 14 women.
Their group, PolySeSouvient, has been a vocal advocate for tougher gun laws in the country over the last three decades. They criticised Mr Price, saying he had been "duped" by the gun lobby.
"If the amendment is not adopted, it's game over for us," said Suzanne Laplante-Edward, whose daughter, Anne-Marie, died in the 6 December 1989 shooting.
The bill is currently before a parliamentary committee. Mr Trudeau announced a national freeze on the sale, purchase, and transfer of handguns earlier this year, as a stopgap until the bill is passed.